794 total views, 1 views today
Zaamin City – An Intro
Zaamin city is a community well guarded, located right in the heart of Lahore, around 0.5 Km from Gajju Mattah metro bus station, Lahore. In terms of size, it is sprawled over an area of 1000 acres and a boulevard of about 5 km in length and 150 ft.
It usually entails elegantly designed supermarkets, educational, healthcare, and recreational facilities, among other amenities. Currently, 5 and 10 Marla residential plots, as well as 5 and 8 Marla commercial plots, are available for purchase in easy installments.
The sponsors of the scheme formed Noor Pak Developers for a particular purpose, registered partnership for the execution and administration of Zaamin City.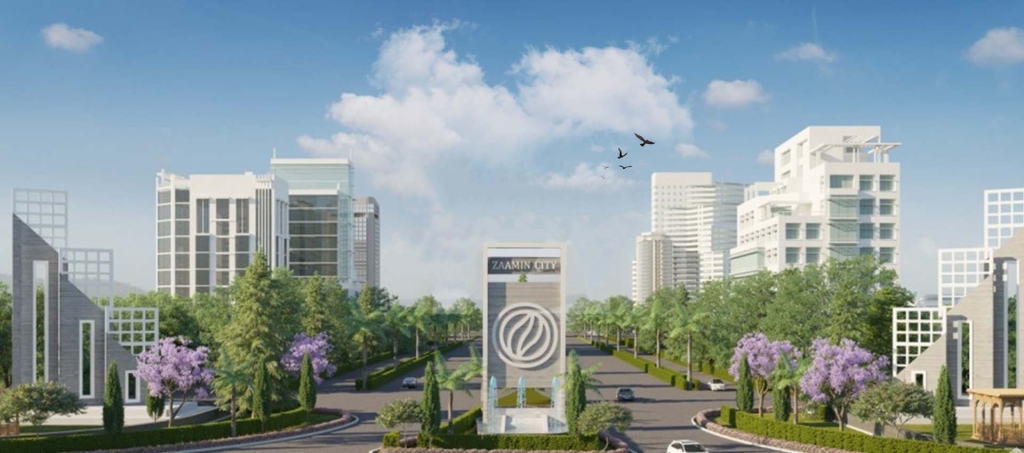 Owners and Developers of Zaamin City
Umer Group
They have been involved in multiple facets of the development, all of which are listed below.
Textiles
Sugar
Leather
Dairy
Energy
The Umer Group is a very well-respected corporate brand with a stellar record of financial stability and creditworthiness. Our mission statement is "customer satisfaction, employee motivation, technological innovation, and a foundation of cleanliness."
Zaamin Group
Zaamin Group has been one of the core sponsors of the entire project because they incorporated many aspects of the city into the overall plan. Below is the list of such facets.
Textiles
Construction
Real Estate
Hospitality
The Zaamin Group constantly seeks the best value for money for its clientele in all of its operations. Depending on the principles of efficiency, dependability, and facilities, the group has committed to significantly expanding its real estate development operations. Customers should expect to hear about a number of Zaamin projects in the near future.
Albadar Group
Albadar group is poised to contribute to the most highly valued aspects of the project, which are.
Noor Pak Developers
Noor Pak Developers are registered and special purpose partnership for carrying out the development process and have a second opinion on the administration decisions.
Location Map of Zaamin City
The recently ended southern loop of the ring road specifies Lahore's heavily populated core. Gajju Mattah zone on Ferozepur road is emerging as Lahore's new hub, comparable to Kalma Chowk. Zaamin City is located next to the same hub.
This region will soon become a massive macroeconomic zone roughly similar to Gulberg Business District, with DHA, Airport, QA industrial area, Johar Town, and other amenities within a 10-minute commuting distance.
Here's a map of the project in its entirety.
How to access Zaamin City
It is strategically placed near the sabzi Mandi on Ferozpur Road and it is surrounded by all of the modern essentials as well as innovative facilities. It is considered one of the greatest societies in Lahore due to its location and ultra-modern living standards. For those who desire to live in a tranquil and clean atmosphere, the project is an excellent choice.
Gajju Mattah metro bus stop is 5 kilometers away.
There is a straight route to the Lahore Ring Road and the Ferozpur Road in Lahore.
Royal Residencia is a 5-minute drive away.
Pak China Dosti Square is a 5-minute drive away.
Green Cap housing complex is around an 8-minute drive away.
Pak Arab Housing Society, Lahore, is a 10-minute drive away.
A 15-minute drive from Valencia, Lahore.
Wapda Town, Lahore, is around a 20-minute drive away.
DHA, Lahore is around a 20-minute drive away.
Model Town, Lahore, is about a 25-minute drive away.
Johar Town, Lahore, is about a 25-minute drive away.
Closest Landmarks to Zaamin City
Royal Residencia
DHA, Lahore
Ring Road
Ferozepur Road
Pak-Arab
Gujju Mattah metro bus station
Pak China dosti square
Green Cap
Eden Place
Defence Road
No Objection Certification (NOC) of Zaamin City
The Lahore Development Authority has conferred Zaamin a No Objection Certificate (NOC) (LDA), and it is an enormous suburban development that aims to provide residents with a higher quality of life at a lower cost.
It is a core component of a vibrant setting that will bring more advancements and one-of-a-kind approaches to those who choose it as a choice to live and investment center. You'll be relieved to know that Zaamin City Lahore has been approved by the LDA. It has gained respect and influence because there are no claims against it and it is accepted in a very short period of time.
Payment Plans of Zaamin City:
Several other housing projects have already sought shelter in Lahore, and residents of these settlements have been considering purchasing a property. Although the market has reached saturation, there is still a need for housing projects that can meet the most precise demands of consumers and investors, resulting in a win-win situation for all sides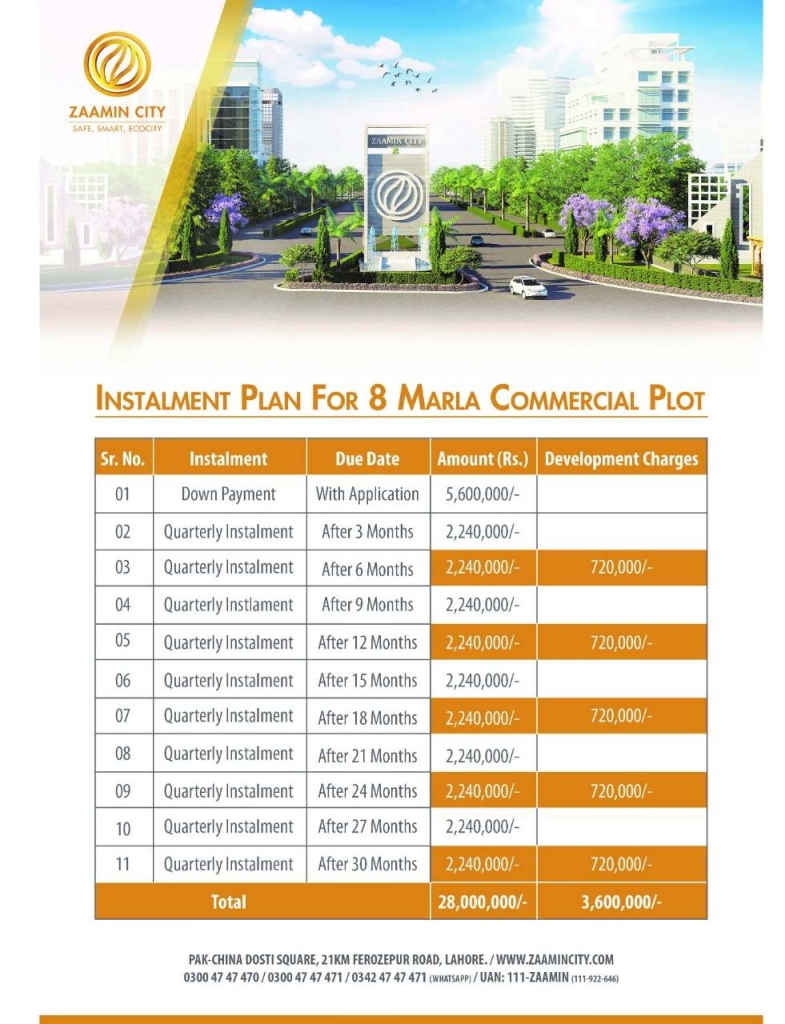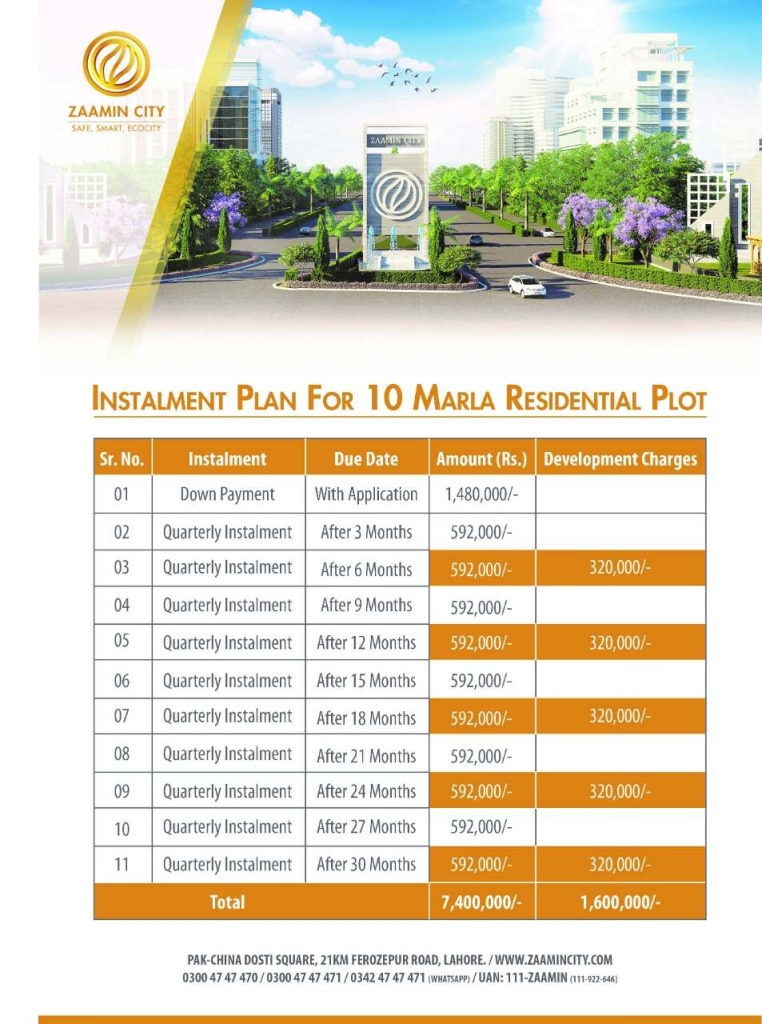 Division of Zaamin City
Zaamin City is divided with regards to different blocks and phases.
Phase 1
The first Phase, affirmed by the Lahore Development Authority, consists of 1821 kanals. This Phase, in addition to residential and commercial plots for sale, has its own schools, colleges, community center, hospital, and so on. This Phase is an integrated high town, with a large central park, Jamia mosque, Pitch and Putt golf facility, gym, and swimming pools.
Overseas Block of Zaamin City
Zaamin City's D Block has been renamed Overseas Block. This project provides its residents with the best amenities, contentment, and facilities. The location meets the highest standards of development and advanced features:
Broad range Roads, Sustainable and environment Project, Gated Community, High-Security Advanced Infrastructure, and All Basic Facilities
Sewerage System
Parks and Jogging tracks
Playgrounds and a golf course
Residential and commercial zones
Here are the plots that are available for residential and commercial.
Residential
Commercial
Villas Of Zaamin City
5 Marla Modern Villas in Zaamin City, Lahore, and its Villas provide customers with luxury in a secure gated community through the Naya Pakistan Mortgage Facility. Inhabitants will enjoy the first-rate lifestyle in their own neighborhood, where they will have access to the best amenities such as a mosque, a school, a college, a hospital, a community center, a gym, a swimming pool, and much more.
Depending on the size of the family, the following designs are available for 5 Marla:
• VILLA APARTMENT (2 BEDROOMS)
• NOVA (2-4 BEDROOMS)
• TWIN (2-4 BEDROOMS)
• SEVILLE (4 BEDROOMS) (5 Bed)
Villas will be built under strict engineering supervision to your specifications, i.e., Executive or Royal category.
Features
Luxury Apartments
Zaamin City also includes premium lifestyle apartments with Dubai-style facilities and amenities such as a gym, a swimming pool, and an entertainment venue.
Commercial Area
Zaamin City provides 5 and 8 Marla commercial plots with a Walk 'N' Shop and a sidewalk café ambiance. Prominent national and international brands will line the main avenue. The commercial activities will be centered on a large emporium.
Education
Zaamin City will emphasize a world-class education system where highly experienced teachers provide students with a thoroughly competitive education in a world-class milieu that includes contemporary study centers, extra-curricular activities, scientific labs, and an online library. Schools with the most robust educational programs will be established near residential areas to make it easier for children to go to them.
Mosque
Four Jamiah mosques and ten sector mosques are planned for Zaamin City. Each Jamia Mosque will have its architectural style. Phase 1 Mosque will be of traditional Turkish design, as depicted in the photograph.
Urban Planning
Zaamin City's urban development included the development of five zones with gated residential sectors with guarded access. A business hub is located in each zone to complement these zones. Each residential area has its entrance gate, park, school, and mosque. The central Jamia mosque, a 200-bed hospital, a college, a central park, and an extensive community centre will all be located in the central zone.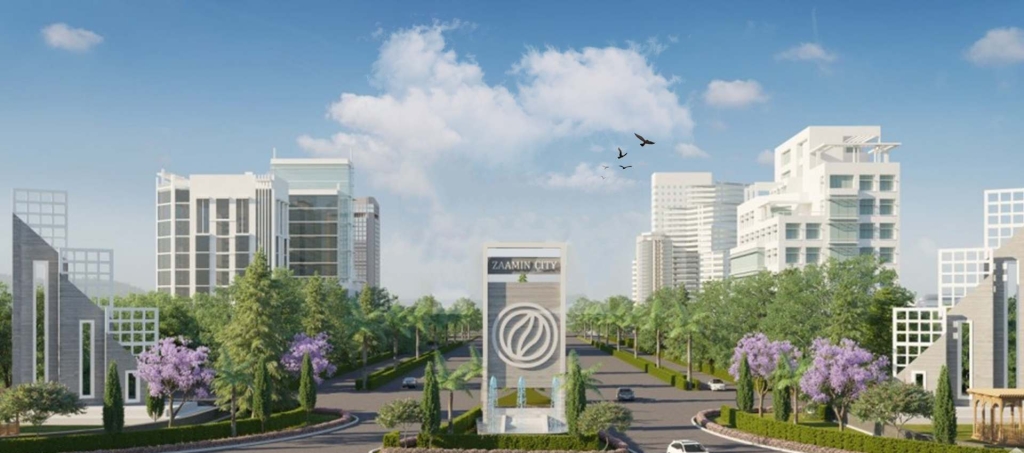 Luxury Villas
Along with the plots, prefabricated luxury executive villas will be available. A well-thought-out maintenance and security strategy will back up Villas. As an option, intelligent home technologies will be available.
Health
Zaamin City will feature a 500-bed hospital to serve the city's citizens and the surrounding area's population. Satellite clinics will provide quick referral reviews, and worldwide partnerships for the hospital facilities will be developed.
Facilities
Safe
Safe city elements, such as cameras in critical areas and real-time links with a central control center, will be included in city planning.
A rapid reaction security team and excellent coordination with law enforcement authorities are other safety features.
Smart
The intelligent city idea will be significant with artificial intelligence and 5G technologies.
Zaamin City will provide fiber-optic access, real-time communication, and technology stations that are connected to all key locations.
One of the rare communities with its specialized grid station is Zaamin City.
Eco City
Zaamin City will be built with a low carbon footprint in mind. The Eco-City idea includes elements such as 100,000 trees planned, 100% rainwater collecting, air pollution monitoring, and the use of treated greywater for gardening, among others.
Amenities of Zaamin City Lahore:
It has beautifully built shopping malls, educational, medical, and recreational facilities, among other things. Residential plots of 5 and 10 marlas, as well as commercial plots of 5 and 8 marlas, are currently available for purchase on simple payments. Few of the features incorporated in Zaamin City, Lahore are listed below;
Sui gas pipes may be found underground all across society.
The best way to ensure a constant supply of power is to use strong and high-quality wiring. A power plant devoted to delivering energy to this area has already been built.
In a high-end shopping mall, you can find world-class and top-tier brands. Grocery stores of all sizes are stocked with goods that are necessary for living a richer life.
Gym enthusiasts can flock to sports complexes and the wing of the premier gym.
Zaamin city boasts a number of top educational institutions on its map, all seeking to provide world-class education and learning opportunities.
Safe city elements, such as cameras at strategic locations, has been included into city planning.
Fiber optic connectivity, real-time communication, and technology stations has been provided by Zaamin City.
Zaamin City has been built with a low carbon impact in mind.
Advantages and Disadvantages of Zaamin City:
Advantages
Zaamin City is situated in a very ideal location.
It has purely a family-oriented environment.
Zaamin City has adopted the complete prospects of a secure and gated city metropolis.
The housing society has acquired a self-managing and quite feasible model for waste management.
Zaamin City has gotten aqueducts that are able to supply fresh water 24/7.
It also provides 24/7 Gas and electricity Supply Availability. It has great health facilities.
It also provides the facility of Fiber Optics.
Disadvantage
It is wildly held among locals that Zaamin City has expensive payment plans.
Investment Potential in Zaamin city
Zaamin City Lahore is a dynamically growing residential project in a perfect setting. It is best to invest not only because of its location, but also because of its state-of-the-art facilities, modern developments, and fantastic community planning.
This society is ideal for investing because the prices are reasonable and properties can be purchased in installments. Furthermore, due to high demand, property prices in that area are constantly rising. As a result, it is obvious that as the development work progresses, the prices of these plots will also increase, providing you with the best earnings.
Conclusion
Zaamin City Ferozepur Road Lahore is a phenomenal residential community that combines all of life's conveniences and luxuries in one location. You have access to a high-quality, functional, and aesthetically pleasing living room. It is a truly ideal living environment due to its excellent spot, cost and availability, higher growth status, and modern infrastructure.
It is a prestigious residential destination that meets international quality, planning, and development standards. It provides the best living conditions, as well as the best environment and outdoor amenities. You may consider this location to be the best for investing or living in a secure atmosphere. This cutting-edge project has a lot to show potential investors and customers.
Folks looking to buy a home close to facilities, services, and peace should look into Zaamin city.