Real estate investing in the capital is one of the country's most highly prized ventures. The capital city is one of the world's fastest-growing cities in the real estate and property sector, thanks to its lush greenery, well-organized layout, security, and safety.
Islamabad is a planned metropolis with stunning scenery, world-class infrastructure, and high quality of living. The region is divided into sectors and named so that it is easily recognizable. Apart from being Pakistan's political capital, Islamabad is also a popular tourism destination.
For many people, purchasing a home in Islamabad may appear to be the ideal real estate investment. However, finding the appropriate house isn't as simple as it sounds; it takes a lot of effort and study to locate the right estate to spend in.
Investing in nova city can be considered if you look at their other successful projects of theirs. The builders of Nova City are Nova City Developers. Nova City Housing Society Islamabad is being developed by the business, which is a well-known real estate developer. They are well-known for their high-quality system design and have already completed several successful projects. Additionally, under the brand "Nova City Schools," the owners are market leaders in Pakistan in terms of technology and innovation-based schools.
Nova City Peshawar is also a new development by the Nova Group, was recently announced. It will be a great achievement, just like Nova City Developers' other projects. The Nova City Peshawar is situated close to Charsadda and Main Peshawar City, on the Islamabad-Peshawar Motorway (M-2). It will provide significant and excellent investment prospects.
Nova City Islamabad Location:
Image (Google map)
Nova City Islamabad is at a prime location, it is right between two cities (Rawalpindi and Islamabad). The Islamabad-Lahore M-2 motorway is also near the land which makes it more appealing for investors and residents. Because in the coming time it will be a hub for people to stop by.
It's also only a few minutes' drive to the new Islamabad International Airport. The proximity of an airport makes it very appealing to frequent flyers. Nova City is designed for business people who want to live in an area with easy access to communication and transportation.
The position of Nova City Islamabad is that three dams, Rama Dam, Sapiala Dam, and Kasana Dam, are all close by. Another advantage of its position is that it is only a few kilometers away from the magnificent Kheri Moorat National Park, which covers about 8600 acres.
All of these characteristics contribute to society's relevance. The google map of Nova City Islamabad is provided here so you can get a better notion of where it falls.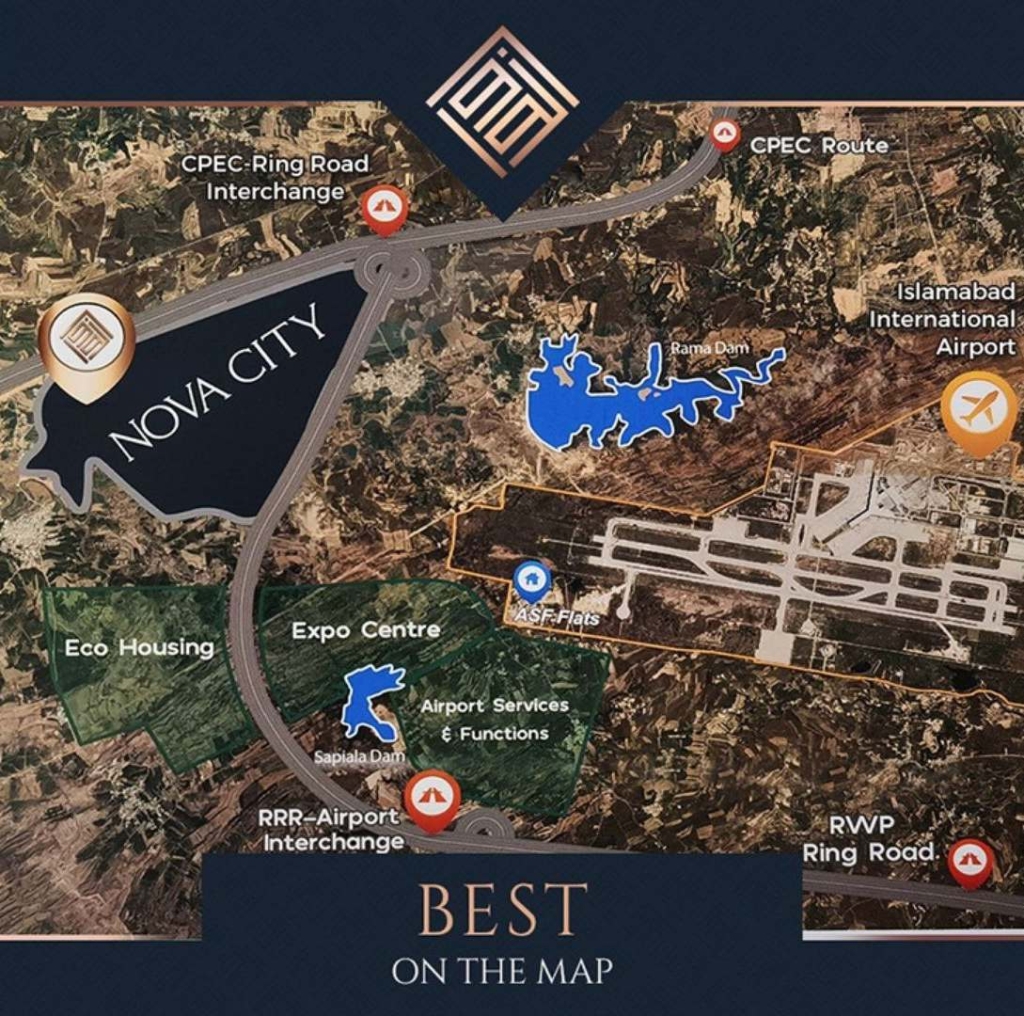 NOC No Objection Certification of Nova City
Before buying any property we have to check if the land is approved by the authorities or not. One of the most significant requirements is a NOC, which serves as proof that the land is legally yours. It is also required to obtain a no-objection certification from various agencies and government departments as confirmation that the property is lawfully yours and that the entity from which you obtain your NOCs is legitimate.
Any housing society's and investors' primary concern is the NOC. The approval of a NOC authorizes a housing society and fosters trust in the society and its developers. Fateh Jang TMA has already granted Nova City planning permission, and its final NOC is in the works. Although the appropriate authorities have yet to release it, the approval of the Planning Permission indicates that it is well underway. TMA has currently granted Nova City Planning Permission PP – 1 approval. It is not a NOC, but it does imply that the developers have been granted permission to proceed with their project.
Nova City Islamabad master plan and layout:
As we know Nova developers have a project going on as Nova City Islamabad. Since the development is in its initial stages we only have a slight idea about the layout and master plan.
Residential Plots
If you're wondering what a residential plot is here's some information. Residential land includes any land, plot, portion, lot, tract, or piece of land, as well as any building utilized or planned to be used for investor residence or tenant accommodation. Nova City has the following sizes of residential plots:
• 125 square yards, 5 Marla
• 250 square yards, 10 Marla
• 500 square yards, 1 Kanal
• 1000 square yards, 2 Kanal
Esports Block:
The management of Nova City Islamabad has recently introduced the Esportes Block, a new addition to society. This block is a fresh addition to society's opulent inventory, and residents are expressing strong interest in this cutting-edge structure. This block is in a prime location inside the society, and it is easily accessible from the CPEC road through the main entrance.
Nova City Esportes Block contains all of the most up-to-date sports facilities, as the name implies. Residents will have access to a variety of domestic and international sporting facilities, as well as recreational facilities. Residents can enjoy excellent amenities such as Nova City School, cycling tracks, a multipurpose football field, a cricket stadium, and so much more can be found here.
Facilities provided by Nova City:
Nova City Islamabad is a well-planned residential community with all of the latest extravagances and amenities, as well as computerized systems. It is completely safe and secure to invest in and live in society.
It is a private gated community
Residents must feel safe and secure at all times, whether it is day or night because the only aspect that matters at the end of the day is that they are safe. A person is protective of his or her family, and if society is not protected or safe, no occupiers or businessmen will be interested in investing in the society.
boulevards
The streets, highways, and main streets are designed to provide inhabitants with a safe and extensive drive. Advanced security and street lamp systems have been installed on the roads and streets. Investors will find it much more appealing as a result of such breakthroughs and changes.
Zoos and recreational parks
Every necessity of children and families residing within the premises has been met by society. The zoo will house a wide variety of species.
Residents will have access to all of the top medical and healthcare facilities provided by the Medical Facilities Society. Hospitals and clinics will provide modern health care and paramedics, as well as highly qualified experts and paramedics.
Mosque
The mosque is one of the most important amenities, and it was built as part of a breakthrough approach to allow residents to form and maintain a strong relationship with the creator of the universe. Residents will be able to worship five times a day in a beautiful architecture mosque that will be erected in the society. Residents can send their kids to the mosque to memorize and recite the Holy Quran.
Payment Plan of Nova City:
These are pre-launch plot costs and payment arrangements.
Final prices may be announced after the society's official launch, which is expected to happen soon. With such a high degree of lavish services and amenities, Nova City Islamabad plots for sale are accessible at the most affordable costs in Pakistan.
The following is the payment plan, which includes the construction charges of Nova City Islamabad:
The pricing of a 3.5 Marla plot is Rs. 1,275,000/ with a down – payment of Rs. 255,000/ and a confirmation and booking fee of Rs. 127,500. There are also 40 monthly instalments of Rs.12,750, 8 half-yearly instalments of Rs.28,000/-, and Rs.286,000 to be paid when the property is taken possession of.
The price of a 5 Marla property is Rs. 2,750,000, with a deposit of Rs. 590,000 and a confirmation and booking fee of Rs. 295,000. There are also 40 monthly instalments of Rs.18,950, eight half-yearly instalments of Rs.79,000/-, and a total of Rs.770,000 to be paid when the property is taken possession of.
The price of an 8 Marla property is Rs. 4,040,000, with a deposit of Rs. 810,000 and a confirmation and booking fee of Rs. 405,000. There are also 40 monthly instalments of Rs.20,870, 8 half-yearly instalments of Rs.158,000, and Rs.1,131,200 to be paid when the property is taken possession of.
The price of a 10 Marla plot is Rs. 5,000,000, with a down – payment of Rs. 1,000,000 and a confirmation and booking fee of Rs. 500,000. There are also 40 monthly instalments of Rs.25,000, 8 half-yearly instalments of Rs.200,000, and Rs.1,400,000 available.
The price of a 14 Marla plot is Rs. 6,750,000, with a deposit of Rs. 1,425,000 and a confirmation and booking fee of Rs. 712,500. There are also 40 monthly installments of Rs.30,875, 8 half-yearly installments of Rs.275,000/-, and Rs.1,890,000 to be paid when the property is taken possession of.
The price of a 1 Kanal plot is Rs.8,800,000, with a deposit of Rs. 1,760,000 and a confirmation and booking fee of Rs.880,000. Rs. 75,000 can alternatively be paid in 40 monthly instalments. On taking possession of the property, 8 half-yearly instalments of Rs.230,000 and Rs.2,000,000 must be paid.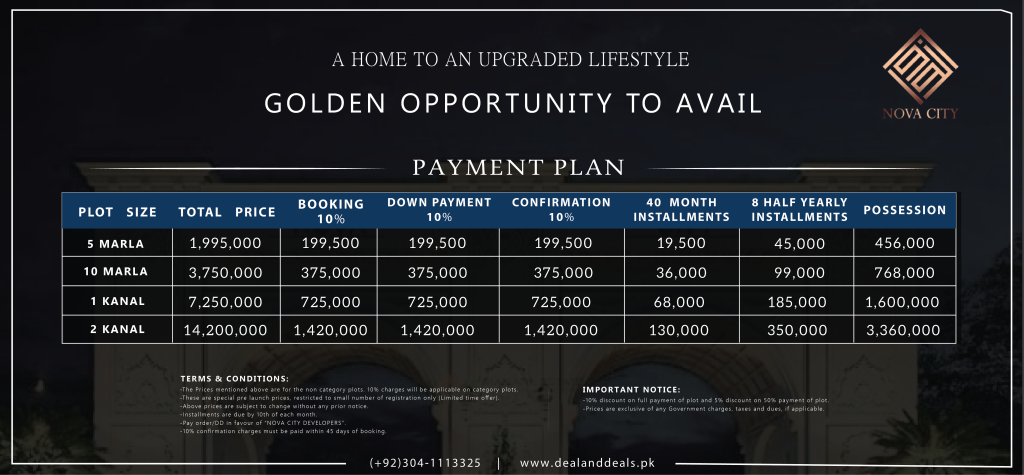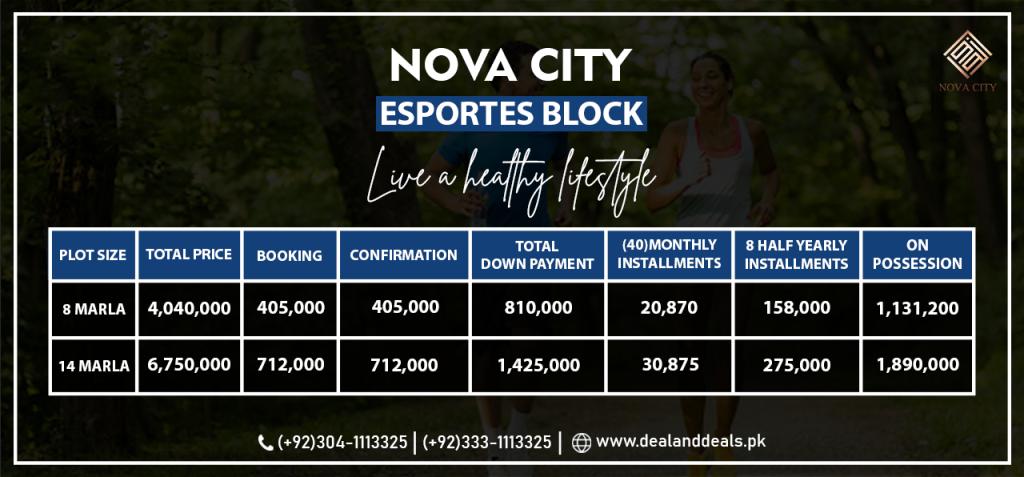 Important Notice/ Terms and Conditions:
If you pay in full, you'll get a 10% discount, and if you pay in half, you'll get a 5% discount.
The rates listed above are for plots that are not classified into any of the categories. On category plots, 10% more charges would have to be submitted.
These limited-time-offer prices are pre-launch prices that may change in the future depending on situations. The pricing is subject to change at any time without notice. The prices shown are inclusive of development costs. The prices do not include any government fees. In the name of "Nova City Developers," make a check payable to "Nova City Developers." Within 45 days, a 10% confirmation fee must be paid.
The following are the most important aspects to remember while making a reservation and paying for it:
If confirmation is not received within 45 days, the property will be automatically cancelled, and only 75% of the deposit will be repaid within six months.
Payment Method:
If you want to reserve your property you will have to pay beforehand for Payments, Nova City has a bank account.
To reserve your land, make your payments to the JS bank. Please contact Nove City Main Dealers Before making any payments.
Nova City Developers is the account name.
IBAN: PK28 JSBL 9156 0000 0170 8270
8212643-8 is the NTN number.
Conclusion:
Nova City Islamabad is being built by Nova City Developers in one of Islamabad's most desirable areas. Because of its proximity to the CPEC and Rawalpindi Ring Road, it will be the most sought-after housing community in the near future. It is a fantastic new real estate business with a lot of investment possibilities. In terms of infrastructure, convenience, quality neighborhood, facilities, lifestyle, and long-term revenue production, this society will provide residents and investors with a bright future.
With all of the appealing characteristics, stunning landscapes, and elegant design structures, not only is Nova City's beauty enhanced, but its value has increased as well. In summary, a premium location, a secure and gated environment, efficient sewerage, and standard educational facilities are all available.
After entering the developmental phase, any future extension plans for this project will raise buyer demand, which will in turn increase demand for this project, ultimately benefiting investors in terms of return on investment.
In nature, society is attractive because it has the potential to generate big speculative profits. This is a once-in-a-lifetime opportunity for those who believe in a prosperous future. The society pledges to provide the best infrastructural advancements to residential and commercial sectors at the most affordable prices while providing exquisite facilities. This society provides a once-in-a-lifetime opportunity to purchase and sort property at bargain prices.