802 total views, 1 views today
Rudn Enclave – an Introduction
RUDN Enclave is a project of a private firm RMRSCO and the National Engineering Services Pakistan (NESPAK) is its master planner. Another reputable firm comprising of renowned developers team, Urban Planning and Design Limited (UPDL), is also integrated into the project as developers and contractors in twin cities.\
Coming on to the hot topic of its location and surroundings, it will function as a project on Ring road Rawalpindi as it is situated right on the Main Adyala Road.
Besides being embodied with eco-friendly and natural views such as the Dam sight and other natural wonders, it allows easy access to the motorway and the new Islamabad International Airport.
With the premier development and the grand nature of the project in the twin cities, the booking process of properties commenced as 25% of the site work had gone into completion.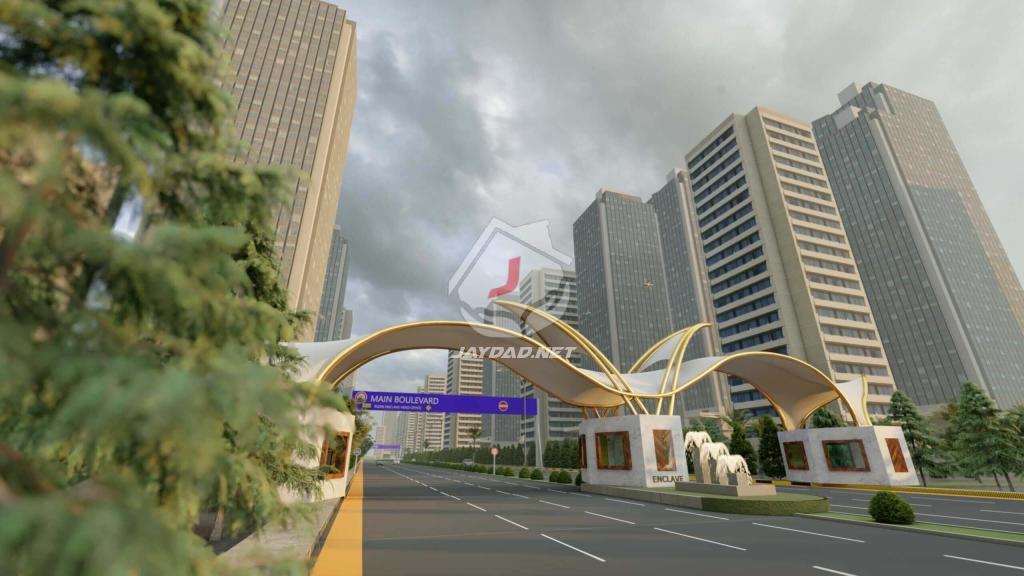 Rudn Enclave – the worthy owners and developers
The private firm RMRSCO (Pvt) Ltd and UDPL have joined hands in the development of this housing society.
It is a fact that UDPL, as master developers and contractors, is a recent inclusion in the strategic tiers of the development project, but they now stand side by side with RMRSCO as a team to oversee this towards a successful and profitable end.
The CEO has recently expressed and surmised the ambition to be a provider of the residential needs of the twin cities as the population figures are no surprise to anybody.
The engineering standards and managerial decisions are anticipated to be of global quality as they are being put in practice rigorously in an attempt to complete the site development.
A bit about RMRSCO will help you grasp a better idea of the nature of the firm itself, to which Rudn Enclave is a mere subsidiary.
RMRSCO comprises, as a development organization, of engineers, project managers, consultants, and professionals of an expert degree of technical knowledge.
The Location map of Rudn Enclave – A premier location
Housing modernity and natural landmarks, this ambitious project lies on the Adyala road in proximity to other monumental sites of the twin cities, such as the M-2 Islamabad Lahore Motorway, new Islamabad Airport, and a recently proposed Rawalpindi Ring Road.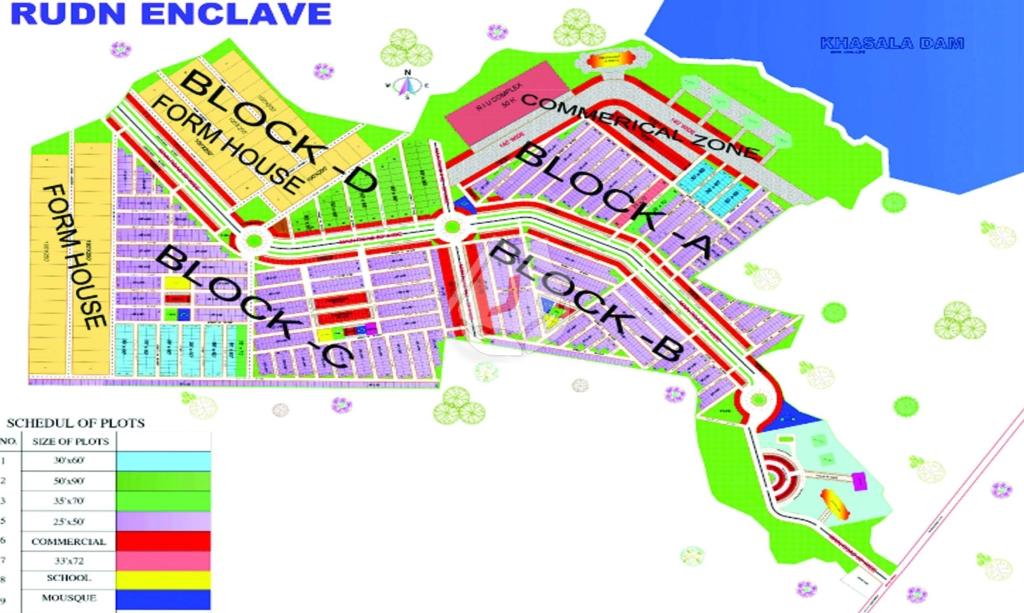 How to access Rudn Enclave – the ease of Accessibility
Rawalpindi Sadar to Rudn Enclave via Adyala road: 20 min drive
Dhamyal airbase to Rudn Enclave via Dhamyal road: 15 min drive
Bahria Phase 8 through Adyala-Gorakhpur road: 10 min drive
M2 Motorway via Chakri Interchange: 20 min drive
Rawat via Chakri Rd: 35 min drive
Islamabad Ghandara Airport to Rudn Enclave: 45 min drive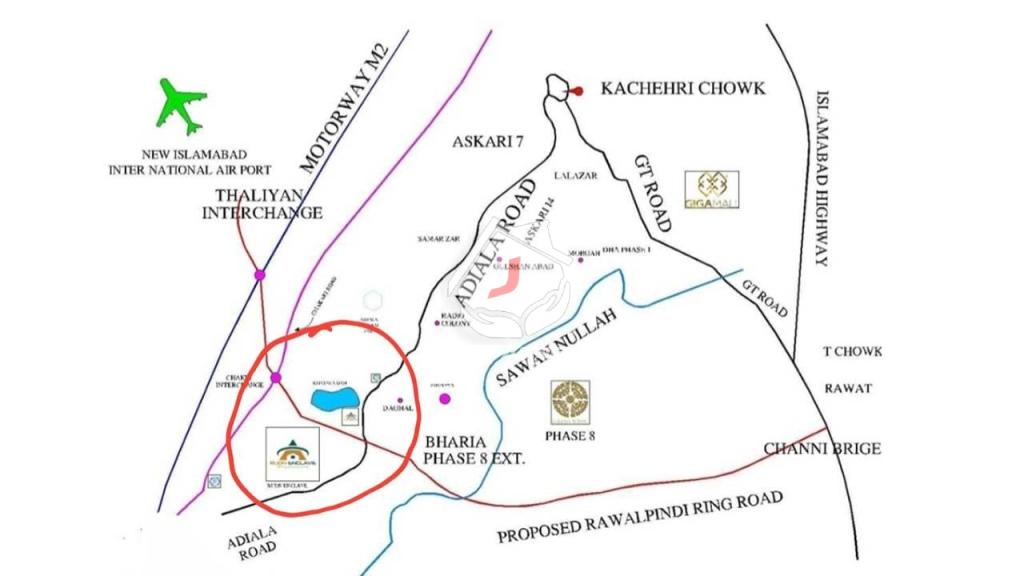 Landmarks in Proximity to Rudn Enclave
Bahria Town Phase 8
Jawa Dam
Khasala Dam
DHA Phase II
New Islamabad Airport
The non Objection Certificate (NOC) – Rudn Enclave
It is widely held among the community admirers and Pindi locals that Rudn enclave has already applied for the infamous certificate, and the response from the initial investors is full of confidence.
It is believed that the whole process of acquiring the NOC certificate will take time because there are other intermediary approvals from different departments for electricity, Gas, and land transfer.
The division of Ruden Enclave – Number of Blocks
All the blocks are alphabetically arranged from A to L, 12 in total, and categorically divided into four segments, namely the general blocks, executive blocks, H-Blocks, and farmhouses.
Here are the plots that are available in the residential category blocks.
5 Marla
7 Marla
10 Marla
1 Kanal
The division of plots into a commercial category is
The farmhouse division looks something like this.
General Blocks of Ruden Enclave
A significant number of blocks lie in this category of the enclave, from A to G to be exact. Blocks A, C, and G are reserved for a residential development site, while E and D will house the splendid farmhouses.
Its location within the entire unit is right next to the entryway. Still, the development has recently come to a halt owing to a strategic detail, generally believed to be the alignment of the proposed Ring road.
The construction work is thought to presume as the external project of ring road goes into completion.
The Executive Block of Rudn Enclave
This recent inclusion is planned to be integrated into the project as it will be connected with the general block through a 200ft wide inside main boulevard.
It will be located on the right side of Adyala road.
To incorporate executive living standards into the culturally and socially distinct enclave, it was imminent to bring innovative and luxury-brimmed amenities into the territory.
The idea seemed obvious, but the actual execution was the work of thinner margins and assemblage of finer details. Such finesse had to be at a display for the ambitious undertaking of Rudn enclave executive block.
It is precisely why the five marla plots had to be omitted.
Rudn Enclave H blocks
This block provides the residential plots of five marlas.
Rudn Enclave Farmhouses
Luxuriously built and richly spacious, Ruden Enclave farmhouses are all but an elegantly nestled estate between dams and the nostalgic city life of the beautiful city.
Here are the sizes of the farmhouses you can start your dream life on.
Dam View City Executive Blocks – Ruden Enclave
These blocks are recently added to the project and are expected to be molded into a segment of the society that will provide a high-end living.
Payment Plans of Rudn Enclave – [the Updated Version]
It has been a well-known fact of this country's estate market history that the average earners and the "below par" class members had a hard time making it to bombastic societies pumping out the facilities unheard of.
Rudn's investment packages and payment plans are highly composed of this factor, and we have seen the cost-effectiveness at play especially in the residential sector of the enclave.
While the pricing of properties is modeled and persistently updated with the prospect of "affordability" in mind, the opportunities are there to make your mark by availing the option of "easy installments."
Properly put, the ownership has been made convenient for all segments of society, and that's why we have seen the property booking trend speed up and take a tremendous toll before the completion of the entire project.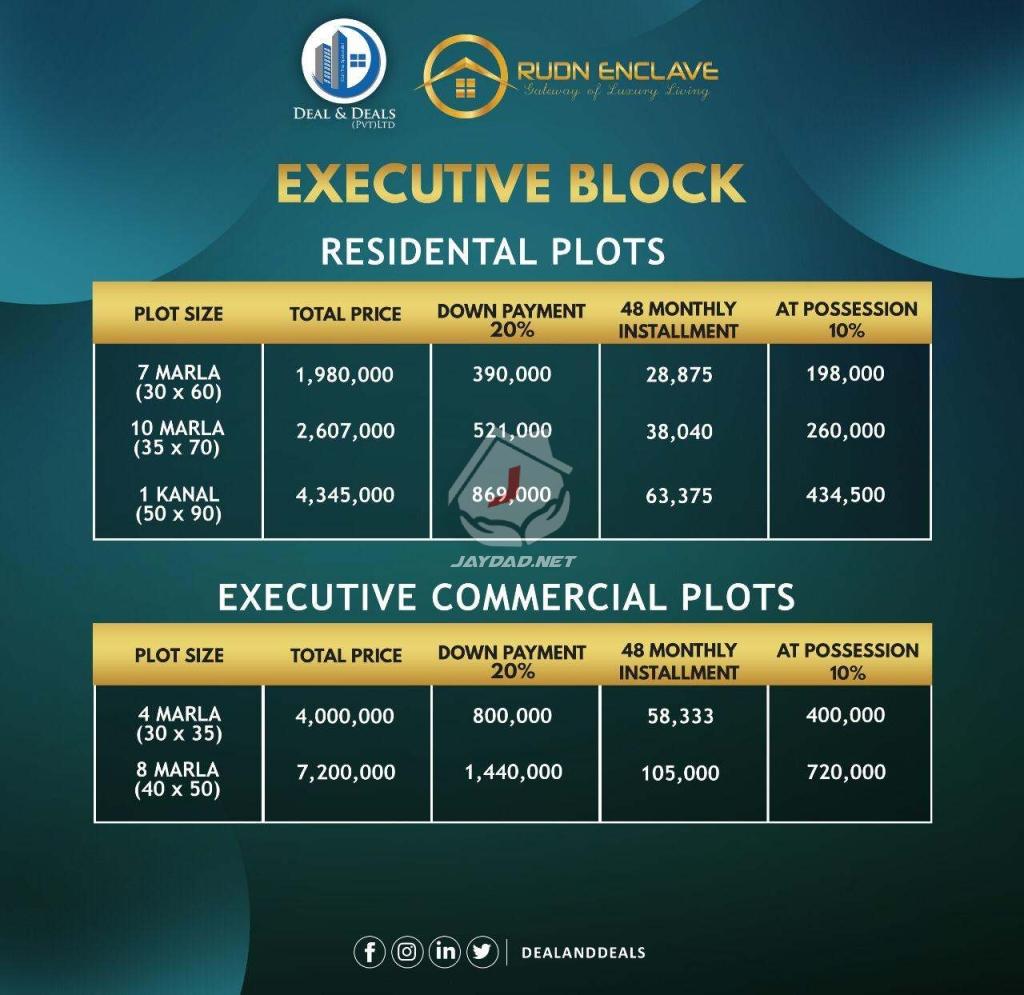 General Block Payment plan – Rudn Enclave
Generally speaking, Rudn's general block was aimed at meeting the residential needs of more than half the population residing in the premises of the enclave.
This meant a collection of blocks, chiefly residential in nature, defining the bottom line of the housing society in general, and of course, the recent inclusions were meant to share the burden of growing housing needs.
(Image)
Executive Block Payment Plan – Rudn Enclave
It is a noteworthy observation into the tastes and priorities of the majority of folks in twin cities that they yearned for extensive and broad housing structures. It was due to an obvious fact that no project was functional that provided such wide residential and commercial estates as Rudn enclave did.
The availability of 7, 10, and 20 marla plots in the futuristic project, sowing the fruits, unironically, of "now" as well, it is more than a mere possibility to own a property, or shape one of your own, in your very own Rudn enclave.
H-Block Payment Plan – Rudn Enclave
Affordability, no longer a mere dream as of now!
You can easily own a 5 marla plot in H-block with only a down payment of 20%. Making it even more convenient, the management has made the installments process even more affordable.
Illustrious Features – Rudn Enclave
The origin of Rudn enclave's pride lies in its ambitious approach towards providing accommodations of the national and international texture, a mix prepared with standards unprecedented to the land it is taking on the center stage.
Some features are as below.
The health of the community is a top priority, and the health district amenities are a reflection of this ambitious claim.
Highly acclaimed physicians and expert medical staff will be in charge of the most vital commodity of life, namely health.
The word around town is spread that only the best types of medical equipment will make it to this health district, and compromises on such matters will be strictly penalized.
In the era of the climate crisis, the ability to utilize with a tight hand on resources marks the cutting-edge quality of a community.
Rudn enclave makes sure that techniques to use the water, energy and other natural reservoirs are in place fully functional. Rainwater tanks, solar cells, and organic furnishings underline a strategy brimming with the eco-friendly features of this beautiful enclave.
The life of your loved ones, the safety of your property, and the security of hard-earned investments mean more than mere bogus words to Rudn, which is why the community witnessed a well-guarded wall and other security measures of extreme degree become a new reality in this part of town.
Amenities for a Healthy lifestyle
People always seek ways to keep themselves in shape, some opt for such activities just to keep themselves occupied while others have a passion for a particular type of sport.
Good thing is that Rudn's got a variety of folks covered with many indoor courts and outdoor grounds.
Fitness clubs, gyms, and physical therapy centers are in place to make sure you grow up being in love with your body, with the shape of your choice.
What defines a community is their ability to stand on one platform on the diversity of matters, and Rudn believes this philosophy of bond and friendship translates into people more effectively once they find themselves being part of events that bring them together, and bring the best out of them.
It is precisely why this housing society organizes events, musicals, and other artistic and sporting events to allow people to come closer to each other, and put into practice their tremendous ability to love and believe each other.
In Pakistan, considering the sum of the population that breathes a rural culture, the leverage of non-stop electricity and gas supply is no less than a blessing in itself.
This illustrious project ensures that such power supply is the least of your worries, and becomes another normality in your life in a way that the torturous days of ill-supplied power barely remain part of what you recall.
Education is the primary right of everyone blessed with life, and quality education must be a necessity for everyone.
Rudn enclave ensures quality education-imparting schools, colleges, and institutions.
Potentially top-tier school systems are seeking spots in the community as of now, and it is believed that the management is willing to definite extra miles to meet the educational needs of your kids.
The spiritual and divine relationship with Allah is worth every second of your life.
The rudimentary inconsistencies and problems in masjids lead the attention of the worshippers astray. This particular dissociation originated out of a mere nook is a cause of most of the unhappiness of this world. This society has definitely given solemn touch, architecturally, to the community mosque so that you stay thoroughly connected with what could be a defining moment in your life.
Children grow in an environment that allows their childish self to express themselves freely. Their maturity is rooted in playfulness and childish experimenting with life, which is why Rudn enclave has been incorporating a range of child amusement parks where multiple facilities are integrated to allow your children to play their hearts out.
Growing together and enjoying a beautiful childhood strengthens the days of maturity even further. Rudn enclave has a team of specialist exterior designers who curated such spaces with a deftness of touch.
Conclusion
Rudn Enclave is in the process of completion. Your chances to afford a healthy lifestyle have increased with the affordable nature of this residential project. The ideal thing would be to not miss out on this once-in-a-century opportunity.