1,183 total views, 1 views today
What is SA Garden?
A crafty residential project, spread over the vast 40 million square feet of land, has been skillfully developed by SA group, a development company directed by two visionary entrepreneurial minds, Mr. Sohail Afzal Malik and Mr. Shoaib Afzal Malik.
Smartly linked to other famous highways of the Northern Punjab, such as Sialkot Motorway, Islamabad Motorway, Karachi Motorway, and Lahore Interchange, the developers are ambitious enough to make this city a potential epicenter of and a gateway to Lahore.
It falls on the CPEC route entering Lahore, indicating that its integration into the infrastructure, designed and curated specifically for the economic corridor, is thoroughly aligned with the national economic interests.
The city has been planned, built, and integrated with distinctive features like water parks, theme parks based on aesthetically appealing ideas, malls embedded with marine structures developed for catering refreshing shopping sprees, educational institutions, sports complexes, and Amphitheaters for artistic performances.
With everything brimming with convenience and refined standards of existence, it is an experiment performed at the highest level within a single territory, more like an attempt to help the community reach out to amenities obvious and unimaginable to their conception of ideal living standards.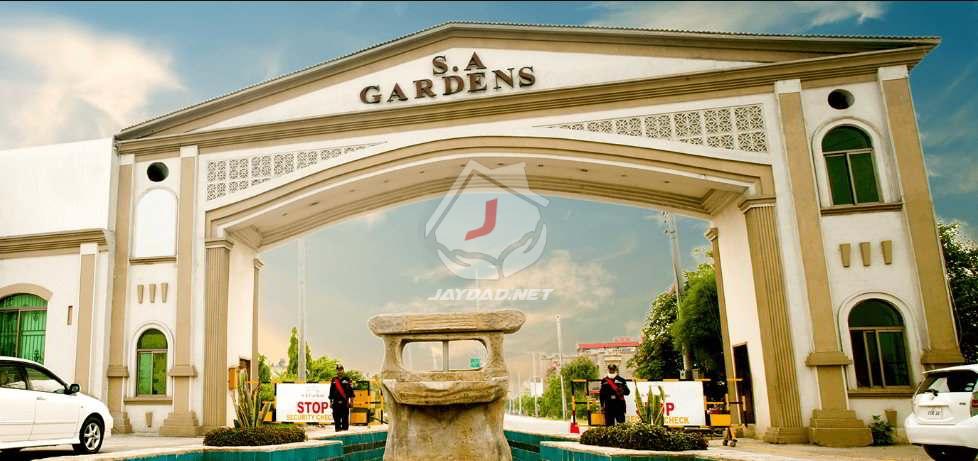 Who owns and has developed SA Garden?
Being the owners and developers of SA Garden, the SA group was founded by Sohail Afzal Malik and Shoaib Afzal Malik and comprised a team of general managers, financial analysts, and legal advisors.
It was conceived by the brothers in 2009, and the portfolio embellished in this brief span seems inconceivable owing to the projects undertaken and completed.
No Objection Certificate and other agreement of SA Garden
We all know the importance of a society being legal for living and investment intentions, so the approval from Lahore Development Authority (LDA) and Tehsil Municipal Administration (TMA) is of utmost necessity.
Approvals for water, gas, and electric supply, along with the Permission planning (PP) letter and NOC, are the kinds of agreements developers seek before the commencement of the project.
These certifications allow the legal status to the society; credibility yearned by the investors, and the lack of which always keeps the doubts lingering in the head of every potential stakeholder.
SA Garden Location
The whole project is elegantly situated on the GT road near Kala Shah Kaku, a town famous among locals for varying reasons. Google Maps can quickly help you spot the whole project as it has become a landmark you won't be able to pass by without having to notice its colossal existence.
Here's the actual glimpse of the whole town;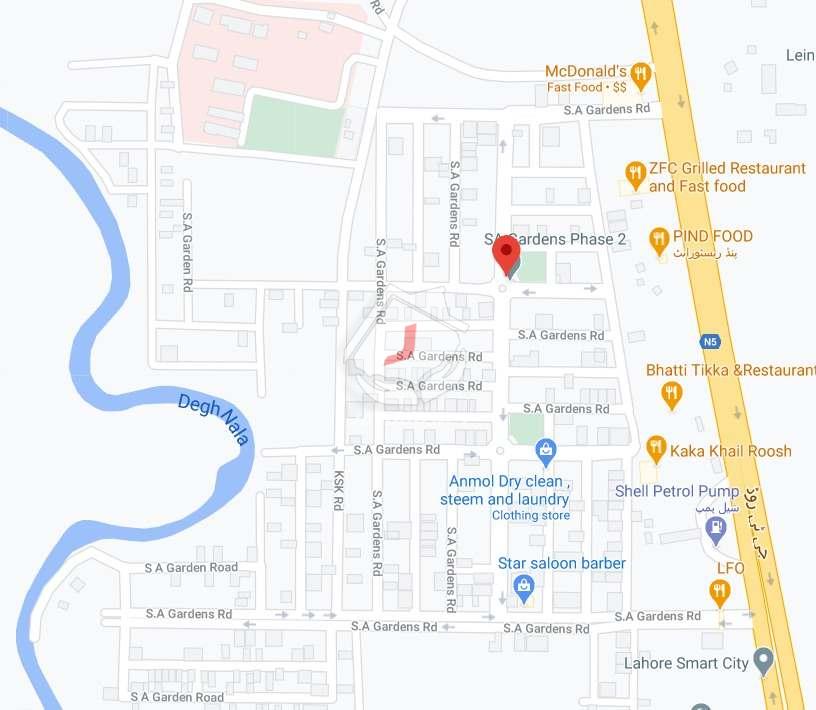 How to access the SA Garden? The closest routes
You probably are well familiar with by now as to how great the location SA Garden is situated at. Bearing in mind this key detail, it is a matter of fact that it can be accessed in multiple ways comfortably.
Here's how you can access it.
If you're on M-5 Motorway, you do not have to traverse a confusing interchange to reach it; it's right on GT road and next to the N-5 National Highway.
It is right next to Kala Shah Kaku road, a GT road in itself.
It can also be accessed from Chak No. 44 for around 7 minutes drive.
It can also be accessed from Lahore Bypass, Kala Shah Kaku, with a drive of barely 13 minutes.
Barely a 15 minutes drive separates it from Balkhay, Sheikhupura.
It can be accessed from Lahore-Sargodha road within 20 minutes drive.
SA Garden Master Plan
Factually considered as the second biggest residential society of
Pakistan, SA Garden has undergone the development process over the staggering 40 million square feet. The area that is kept undeveloped for residential settings is about 12 million square feet, and the completion of all sorts of desired development has taken place at 19 million square feet.
Wide range of blocks in SA Garden
Furqan Block
Sohail Block
Faris Block
Sher Afzal Block
Sher Azam Block
Kamran Block
Arslan Block
Shoaib Block
Charagh Block
Tahir Block
Faisal Block
Sher Zaman Block
Badar Block

Payment Plans of SA Gardens, Lahore
One Year Payment Plan
| | | | | |
| --- | --- | --- | --- | --- |
| Plot size | Total price PKR | Booking Amount PKR | Balance Amount PKR | Monthly Installment PKR |
| 3 Marla | 480,000 | 96,000 | 336,000 | 28,000 |
| 3.5 Marla | 560,000 | 112,000 | 448,000 | 37,333 |
| 5 Marla | 850,000 | 170,000 | 680,000 | 56,667 |
| 10 Marla | 2,200,000 | 440,000 | 1,760,000 | 146,667 |
Sher Afghan Block
Commercial Area Payment Plan
| | | | | |
| --- | --- | --- | --- | --- |
| Size of plots | Advance PKR | Monthly PKR | Biannually PKR | Total price PKR |
| 2 Marla | 1,000,000 | 50,000 | 200,000 | 4,000,000 |
| 4 Marla | 2,000,0000 | 100,000 | 400,000 | 8,000,000 |
Faisal Block
Commercial Area Payment Plan
| | | | | |
| --- | --- | --- | --- | --- |
| Size | Per Marla Price PKR | Advance 35% PKR | 3 Monthly Installment PKR | Total Payment PKR |
| 2 Marla | 2,700,000 | 1,890,000 | 1,170,000 | 5,400,000 |
| 4 Marla | 2,600,000 | 3,640,000 | 2,253,334 | 10,400,000 |
| 4 Marla MB | 2,860,000 | 4,004,000 | 2,478,667 | 11,440,000 |
Sizes of available Residential Plots in SA Garden
3 Marla
4 Marla
5 Marla
6 Marla
8 Marla
10 Marla
Sizes of available Commercial Plots in SA Garden
SA Garden is divided into two comprehensive phases, allowing multiple residential and commercial projects that are in the process of completion while some of which have already undergone an infrastructural change.
So these are the phases of SA Garden.
SA Garden has different blocks; all shared between these two phases. We have seen the developers pick up the speed and take the great leap in the direction of a fully hustling city.
All the blocks in SA Garden Phase I
Phase I is considered to house a relatively fewer number of blocks within its marked boundary.
Furqan Block
Sohail Block
Faris Block
Sher Afzal Block
Sher Azam Block
All the blocks in SA Garden Phase II
Phase II consists of more blocks and is more likely to embody an even increased number of residential and commercial plots and settings.
Kamran Block
Arslan Block
Shoaib Block
Charagh Block
Tahir Block
Faisal Block
Sher Zaman Block
Badar Block
Sher Afghan Block
Premium Block
Facilities Amenities Available in SA Garden
We all know what you can expect from a society that boasts the honor of being the second biggest society in Pakistan. Investors and residents with an intent to live have already come to terms with the magnanimous statue of the project and expect to throw their best chips in.
Well Secured and Well-guarded
Protection of the community from all sorts of aggression and crimes of perpetrators is a first duty of the developers, something that they paid great attention to curate a sustainable solution. A gated and high wall setup gives a sense of comfort to everyone breathing inside as it keeps the beyond-the-wall, terror-instilling factors at bay and ensures you with a realization that everything you've invested in is well taken care of.
Other Surveillance gadgets apart from CCTV cameras are also in place in strategic places, covering a diversity of angels and giving real-time footage of every obvious and subtle activity carried out within the territory. The patrolling guards work in different shifts to ensure that everything is on watch.
Spacious Boulevards and wide roads
All the roads integrated like a network obey a specific width principal to allow decent enough space for different-sized vehicular traffic. The infrastructure is bound to help the transportation cause as the multiple lane concept allows more incoming and outgoing traffic.
Parks and Amusement Centers
Builders have introduced water parks and theme parks featuring varying concepts, attracting notice from all age groups, and designed and developed with fine details in mind.
Water bodies within parks can elevate the whole amusement experience to the degree of sensual pleasure. Similarly, foreigner park curators brought lavished portfolios and made the entire project seems flawless, something that is a rare asset in parks in itself.
The connection with nature and the imaginative aspect of human nature has already acquired tangible shapes to stun our eyes. Parks and such centers have evolved to a varying degree, which is why SA Group wanted the best-evolved practices in work. Eventually, we witnessed the gardens that appeal equally to all age segments and varying ethnicities.
Dashing Community Centers
Communities are shaped by bringing them together through many ways, one of which could provide a platform such as musicals, artistic events, sporting events, and other similar programs.
SA group visioned the implication of this philosophy and decided to develop the relevant programs and venues for the sole organization of events directed at bringing the community together.
People meet each other, have a talk, and potentially gain the maximum out of this society-led effort that will make the whole journey towards bonding and togetherness ever more wholesome.
Old school concepts of neighborhood and community bond have already given this society an edge in the region, attracting thousands who want to join the already dwelling folks and live a life of trust and luxury in an unprecedented manner.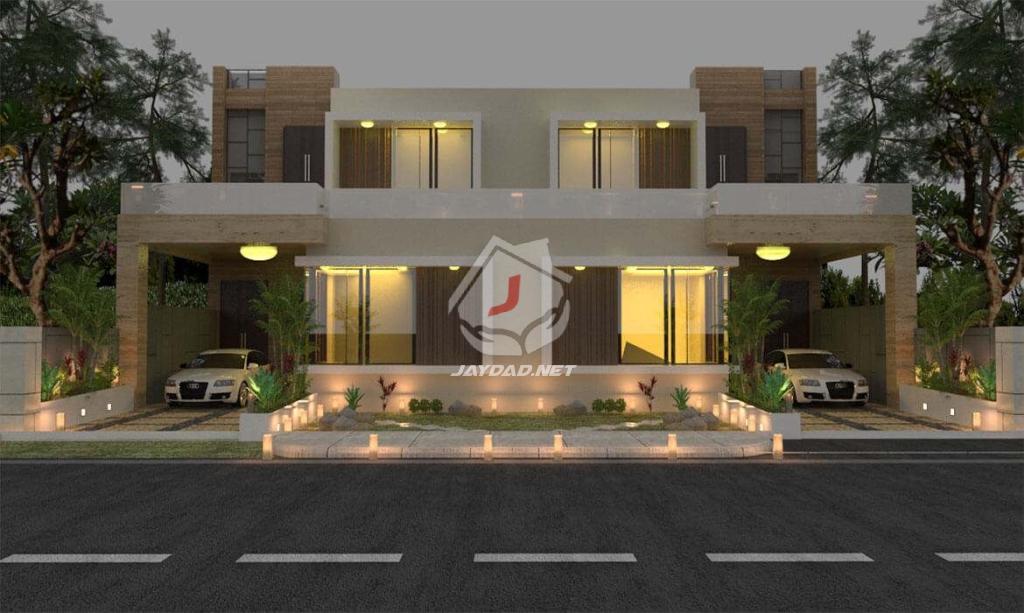 Medical Facilities
Taking care of health is a sign that you are being delivered the very core of the promises made in the beginning. This is why all the clinics and hospitals house medical types of equipment and qualified staff of utmost quality. People have their physical complexities checked, and meticulous medical care of the person is provided.
It is ensured that all the other hospital-related facilities are made part of its medical district and that no compromises are made regarding the precise and professional delivery of the services.
The sense of maturity and responsibility shown by the people in charge has kept the project in the race with other residential projects in Lahore.
State of the art features of SA Garden Society
Although we have briefly hinted upon a few of the features of the city. Here's a list prepared to cover all the features and make life easier for all who intend to discover the city in its entirety.
Lovely entryway
Gated community with a perimeter wall
Proficient Streetlights
A lovely Jamia Mosque
Public parks and green belts of recreational areas
CCTV cameras and modern security systems are available 24 hours a day, seven days a week
Clean Drinking water
Excellent business areas to meet the residents' economic needs.
Sports activities areas for residents' wholesome activities
Sewerage system comprised of extensive underground sewerage flow lines
Playgrounds for children along with beautiful green parks
Procedure to follow purchasing/sale of Plots in SA Garden
The guidelines to follow for selling or buying a property are as follows:
1) Complete Documents verification
The history of the real estate market is not foreign to the scams, voluntary or involuntary, as the lack of documents needed to begin the selling/purchasing option.
Ensure you inquire about NOC and other authority-related approvals because only this way you make sure that the deal will have any legitimate ground to exist.
It can also be interpreted as a way to quench your curiosity and enlighten yourself off the weight of doubt.
Financial scrutiny
Your financial state must be thoroughly checked before involving yourself in any potential deal that may include selling or purchasing the property.
The complete financial awareness of the current state will ensure you do not belittle your chances of pulling off the whole deal.
Visiting the Properties
Prior to the transaction and right after the validity of documents, one particular visit you must pay is to the property and society and see if specifications on paper are that of the ground.
Necessary documentation for Booking a Plot in SA Garden
Two passport size photos
Two photocopies of your CNIC
Two CNIC copies of your next of Kin
NICOP for foreign clients
The Upside of Investment in Real Estate
Among other things, real estate investment is one of the most profitable businesses. It has a high potential for return on investment. The important thing to remember is that it will only be profitable if done correctly. Investing in the real estate industry can provide a variety of advantages.
Stability in Income
An individual can possibly develop a consistent income by purchasing a property. You can purchase a property and build it, or you can buy a developed property and rent it out on a monthly, yearly, or recurring basis. Not only that, but the rent increases by a certain fraction every year, so it is not incorrect to say that it becomes better than stable.
Progressive Passive Income
By investing in real estate, a person may be able to generate a steady stream of income. You can buy a property and build it yourself, or you can buy an already built property and rent it out on a monthly, yearly, or recurring basis. Not only that, but the rent rises by a certain percentage point every year, so it is not incorrect to say that it becomes more than stable.