814 total views, 1 views today
Al-Noor Orchard – An Introduction
LDA approved, well-guarded, and brimming with a range of facilities, Al Noor is a project skillfully officiated by Al Jalil developers. Located right on main Bazar Sharaqpur Shareef Road, quite the opposite to Al Raziq garden, Al Noor has recently happened to announce yet another staggering inclusion to their project by the name of Marina Sports City, proudly celebrated as a new home of the most likable cricketing franchise of Pakistan Super League, Lahore Qalandars.
Their inbred projects are considered trendsetters in the Real Estate arena, and it is precisely why Al Noor is a world-class community for its investors and residents alike.
Purpose-built sporting facilities like cricket stadium, hockey, Squash, and Tennis courts inspire many to make Al Noor their next home in an attempt to seek a healthy and athletic lifestyle.
The area the project seemed to glorify by having to spread over it is about 40 acres of premium land, all utilized to modernize the standards of living to the highest degree and provide folks with the stunning estate.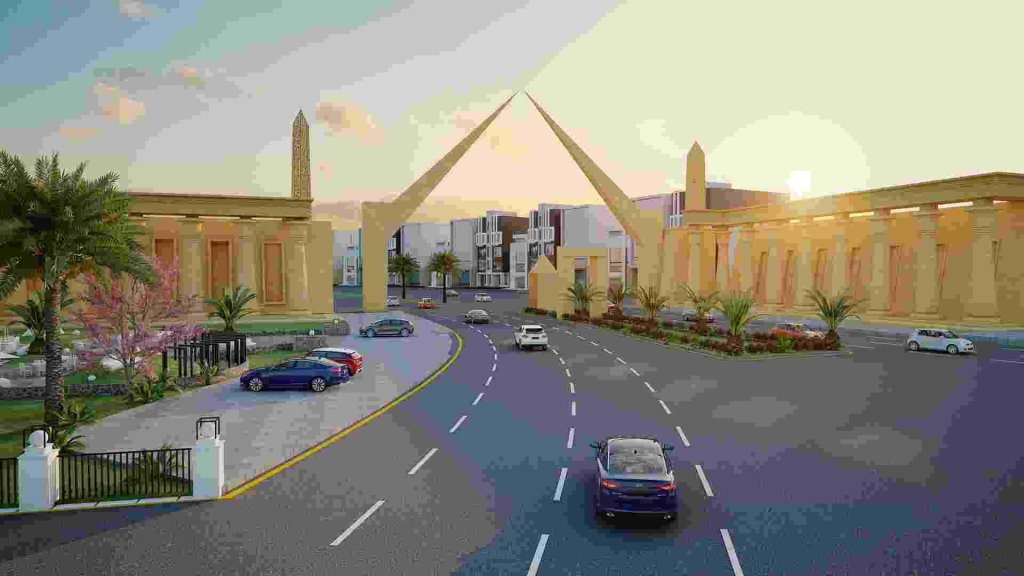 The Owners and developers of Al Noor Orchard, Lahore
The owners and developers of Al Noor are Al Jalil developers, initially founded in 2002 as they stepped into the real estate market of Pakistan with an ambition of crafting societies that glow and depict urban modernity in a way that preserves the local culture.
The infrastructural development of the Orchard is an outcome of the skillful work of the best civil engineers and architects. Al Jalil Garden's success shot the developer's reputation among the investors and other development teams to new heights, which is why we saw the investors of Al Noor Orchard get their signatures to hand over the project to an entrusted name in the industry.
No Objection Certificate (NOC) and other approvals
The Al Noor Orchard Lahore's got its approval for NOC in October 2019 under the NOC serial number #LDA/DMP1/SKP/913.
The balloting process had been scheduled for the next month, which oversaw the successful balloting of 150-200 plots in Block A and B.
The approval meant the official initiation of the infrastructural and development work; from then on, Al Jalil took over the job and never really looked backward.
Prime Location of Al Noor, Orchard Lahore
The selection of the location of the Noor project is strategic in many regards as there are so many monumental Urban landmarks in proximity to it.
Lying opposite Faizpur Interchange and Al Raziq Garden, it can be accessed within a few minutes' drive from Al Jalil Garden. The road it is situated at is also essential in the way that it links Lahore with Jaranwala. Other closest interchanges that lie close to it are Babu Sabu Interchange and Ravi Tool Plaza.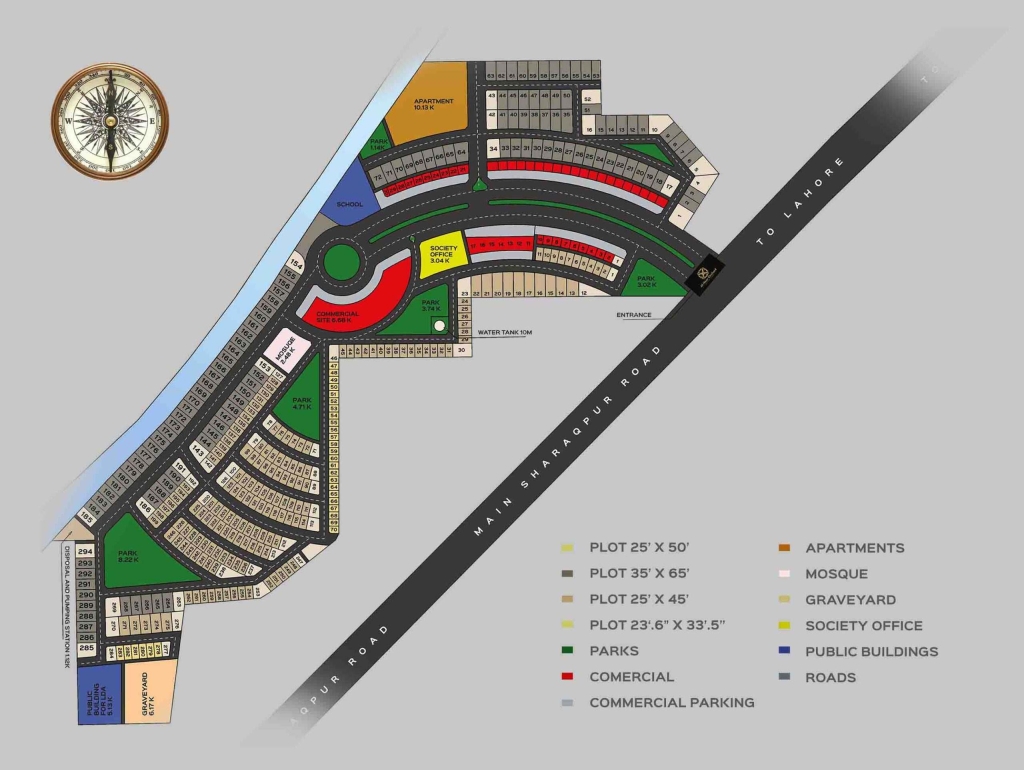 Accessibility:
The following are some of the routes to get to Al-Noor Orchard:
The Faizpur Interchange is right next door.
M-2 Motorway is about an 8-minute drive away.
M-3 Abdul Hakeem Motorway is about an 8-minute drive away.
Sagian Wala Bypass Rd is about a 9-minute drive away.
Sargodha Rd is around a 12-minute drive from Lahore.
The Lahore-Jaranwala Rd is about a 7-minute drive away.
Nearby Landmarks and Locations:
The following are some of the nearby and well-known locations for this society:
Shahdara Town
Shahdara Railway Station
Badshahi Mosque
Data Darbar
Badami Bagh
Walled City of Lahore
Urdu Bazar
Railway Colony
Garhi Shahu
Gulshan e Ravi
Samnabad Town
The Classic Master Plan of Al Noor, Orchard Lahore
You might be well familiar with Al Jalil Developers by now owning to the brief picture we painted in the top section, but it must not be sidelined as a fact that they came up with an architectural masterpiece, something that allows the title of real estate "mogul."
The 40 acres is the precise measurement of the vastness of Al Noor Orchard, and no wonder it needed a strategic dissection of the whole area to reserve specific areas for different types of development work.
Multiple blocks came into existence as a result, and different sized plots became available, such as 3, 5, 10, 1 Kanal marla plots.
Exceptions have been made in making the 3.5 and 5 marla homes available, and four marla commercial plots are part of the package that represents unconventional sizes.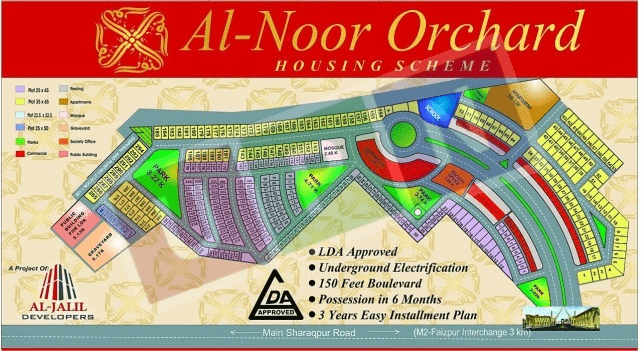 Other additions to the project are a multi-themed park, masjid, medical facilities, educational complex, and Egyptian-themed health care center.
Apart from all these amenities, greenery has been a signature move of this project, and it doesn't remain confined to parks. It transcends beyond recreational settings and can be seen in the residential and commercial sector, majorly in a subtle way where its introduction never seemed enforced.
Al Noor Orchard residential area
Dripping with elegance and delicacy, Al Noor Orchard's residential sector is divided into four blocks that are as follows.
1) A block
2) B block
3) C block
4) D block
And each block features plots of varying sizes that are as follows.
1) 3 Marla
2) 5 Marla
3) 10 Marla
4) 1 Kanal
Marina Sports City Residential Plots
Marina Sports City, Al Noor Orchard's new block, offers residential plots in the following sizes:
3 Marla
5 Marla
10 Marla
1 Kanal
New Orchard City Payment Plan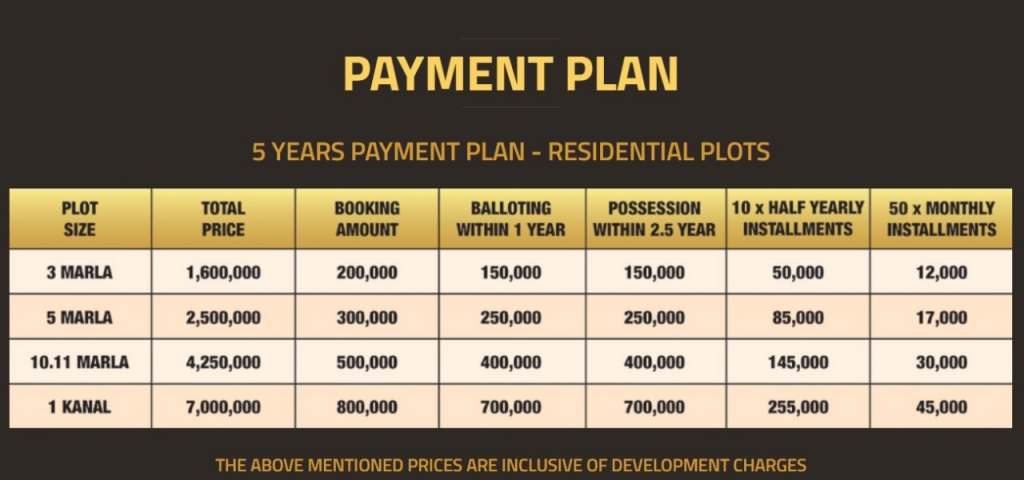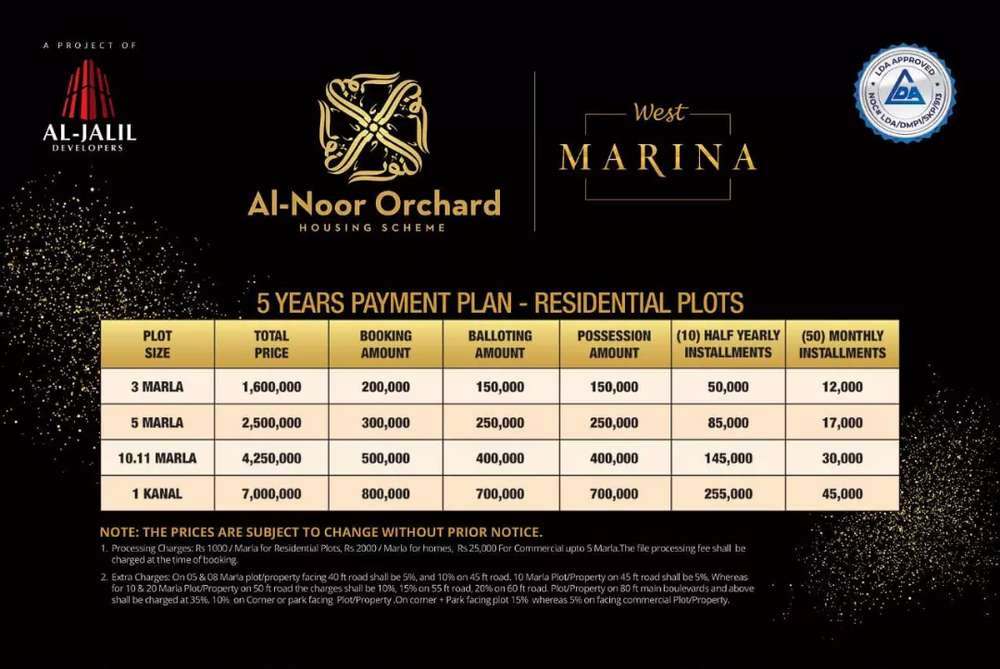 Things to remember before purchasing/sale the plot
Real estate investment, among several other things, is one of the most profitable businesses. It has a high return on investment potential. The most significant thing to keep in mind is that it will only be profitable if executed properly. Investing in the real estate industry can provide numerous benefits.
Stable Income Perk
By purchasing a property, a person may be able to generate a consistent income. You can buy a property and build it yourself, or you can buy an already built property and rent it out on a monthly, yearly, or recurring basis. Not only that, but the rent rises by a certain percentage point every year, so it is not incorrect to say that it becomes more than stable.
Progressive Passive Income
A person may be able to generate a consistent stream of income by investing in real estate. You can either buy a property and build it yourself or buy an already built property and rent it out on a monthly, yearly, or recurring basis. Not only that, but the rent rises by a certain percentage point every year, implying that it is more than stable.
Financial Security
Before finalizing any property sale or purchase transaction, please ensure that your funds are in line with your purchase plan. As a result, your purchase or sale will go off without a hitch.
Property Inspections
Before making any purchase, and after ensuring the validity of the documents, inspect the site on the ground to ensure that the written documents are in accordance with the plot specifications on the ground.
Facilities & Amenities:
Al-Noor Orchard Lahore is a modern housing complex with contemporary conveniences, amenities, and highly efficient systems. In Pakistan, the high degree of lavish facilities is unrivaled. For the citizens of Lahore, this gated community is a significant boon.
The acclaimed developers' devotion and hard work have resulted in all amenities. Engineers and developers are working around the clock to keep their word. It is intended to allow every family to enjoy a comfortable and luxurious life at a reasonable cost. Here are a few examples of high-end amenities:
Jamia Mosque:
This society tends to respond to all the resident's needs, including religious ones. The developers and planners have built a main Jamia mosque to meet the community's spiritual needs for this purpose. Individuals can develop a close relationship with ALLAH by offering prayers within their society in this Jamia mosque.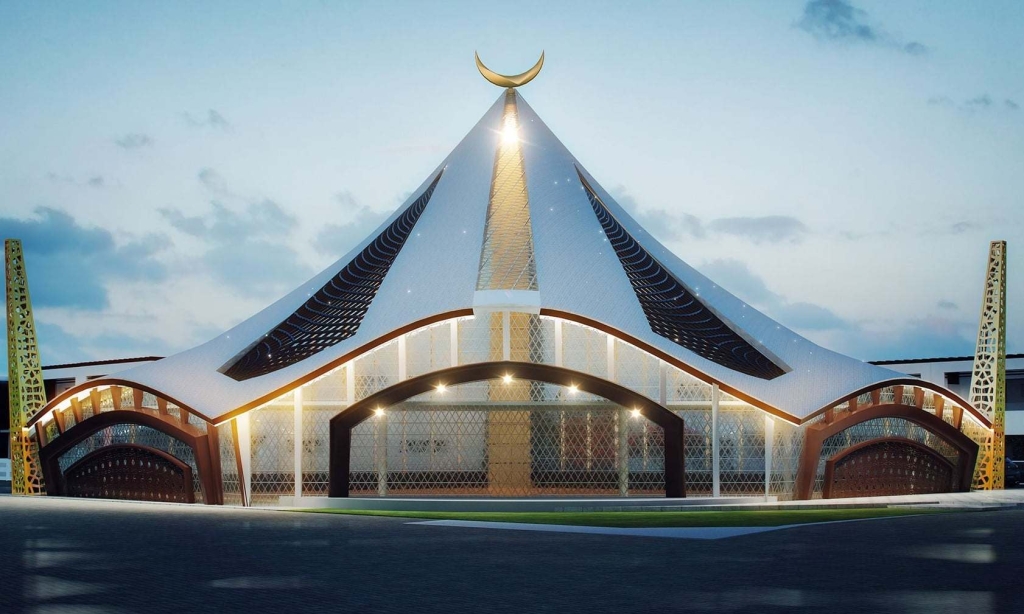 Gated Community:
Security is essential for a real estate residential society for all residing citizens. Developers have established a gated community to give a degree of protection. People are safe and secure, attributed to a security system that includes professionally installed 24/7 CCTV cameras and other surveillance equipment.
Wide Carpeted Road:
The roads and other critical infrastructure are built with professionalism and high-tech equipment to sustain flawless development. This was made possible thanks to the dedication of the developers and engineers who worked tirelessly during the development process to create a contemporary residential society.
Power backup and gas supply:
With the current load shedding situation, particularly during the summers, power backup systems and uninterrupted power supply are provided to fulfill the promise of Al-Noor Orchards, Lahore. Another fundamental necessity that every family need is gas. The community has promptly delivered gas infrastructure to the inhabitants' doorsteps to ensure that they have a pleasant life with all of the necessary services and amenities.
Aesthetics:
The developers have guaranteed the society's aesthetics by putting the lines underground and supplying essential services. This makes society more secure and attractive. Because a contemporary housing society, with its old-fashioned poles and dangling cables overhead, gives off a massive and unappealing appearance.
Lush Green Parks:
The society's developers have ensured that inhabitants enjoy a lavish lifestyle while maintaining a solid and close relationship with nature, and as a result, public recreational areas have been built. Families and children may spend their free time enjoying a pleasant, healthy life in these parks.
Community Clubs & Mini Zoo:
The organization provides a beautiful community club where people may get together on special occasions and participate in social activities, which is a healthy activity in and of itself. It will allow inhabitants to meet one another, form bonds, and form a family that looks out for one another.
State-of-the-Art Waste Management System:
A malfunctioning waste disposal system utterly ruins a housing society. Society's trash disposal mechanism is built to handle all of society's significant waste load. This will be a high-tech system with high-efficiency cars and equipment.
Water Filtration Plant:
An affluent lifestyle necessitates the use of high-end living facilities. This is why society's creators and planners have built in the ability to obtain the cleanest form of drinking water by using a water purifier procedure from a water filtration plant.
Healthcare Facilities:
The medical facilities will be unlike anything else in the world. The best healthcare services would be provided to the citizens of society. These will be top-of-the-line facilities. Doctors and non-medical workers will be well-trained to provide excellent care 24/7.
With the support of qualified employees and medical professionals, these hospitals, labs, and clinics can effectively treat many patients. Workload and patient load would not be an issue in the Blue Town Sapphire Lahore hospital.
Salient Features:
The following are notable features of the society:
Medical and educational facilities such as pharmacies and schools are included in the proposal of Al-Noor Orchard, Lahore.
Various Commercial Areas to meet the residents' economic needs.
Sports facilities for inhabitants' healthy activities.
System for garbage disposal and management.
Sewerage system with extensive underground pipelines.
Children's Playgrounds and Lush Green Parks.
A dedicated water filtration facility will also offer clean drinking water.
Underground Electricity, Water, and Gas Supply 24/7.
CCTV cameras and state-of-the-art security systems are available 24/7.
Green Belts and public parks are instances of recreational spaces.
Main Jamia Mosque
Street lights
The society is surrounded by a gated community and a boundary wall. The main entrance is quite magnificent.
Advantages and disadvantages:
The following are the advantages and disadvantages of Al-Noor Orchard Lahore:
Advantages:
Freshwater is available at all times (Water treatment plant).
Electricity is available around the clock (Grid Station & Solar farm)
24/7 Gas
Schools
Colleges
Theme parks/recreational areas
Grocery/shopping center/Markets/Malls
Peaceful/ healthy/secure environment
Gated community with security gates, surveillance systems, CCTV Cameras & guards
Very close to the main locations & other societies
Wide planned carpeted main boulevard, roads, streets, lanes & walk-ways for pedestrians
Well-planned drainage & waste disposal systems
Green, smart and sustainable housing society in Islamabad
Police Station to keep the law & order
Security system
Solid waste disposal mechanism
Load shedding free zone
Disadvantages:
High-cost perception
Ferozwala
Lahore Cantt
Allama Iqbal International Airport